UPDATE: Preliminary Investigation Report on SAS Dash 8-Q400 LN-RDI Accident in Copenhagen
It's unbelievable! AGAIN a landing gear collapse occured on a Dash 8 – Q400 during landing. Again the right main landing gear collapsed and again it happened to an SAS plane in Copenhagen (Denmark)! SAS now again grounded its entire fleet of Dash 8-400.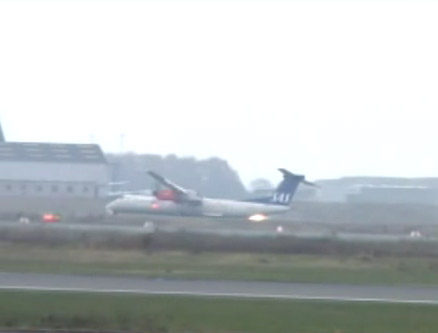 Credit: jp.dk
It will be interesting to see how the other operators and the manufacturer Bombardier will respond.
Official SAS Press Release:
Scandinavian Airlines regrets to confirm that one of its aircraft, a Dash 8- 400 with registration number LN-RDI and flight number SK 2867 from Bergen to Copenhagen was involved in an accident at Copenhagen airport, at 16.55 hrs local time today.
We can confirm that there were 38 passengers and 2 infants and 4 crew members onboard. No one was injured.
SAS is doing everything possible to assist all passengers. Practically all passengers are continuing on connecting flights to their final destinations.
The SAS Group has decided to ground the entire fleet of Dash 8-400 aircraft until further notice.
Passengers booked on cancelled flights until October 29 can either rebook or be refunded.
Photo: http://politiken.dk/indland/article407463.ece
Video: http://jp.dk/webtv/webtv_indland/?movieId=14298&Id=1145841
UPDATE – Bombardier Press Release
Bombardier Q400 Scandinavian Flight Sk2867 Incident
Toronto, October 27, 2007
Bombardier confirms that a Bombardier Q400 aircraft S/N 4024 registration number LN-RDI operating as flight SK2867 from Bergen to Copenhagen, was involved in an incident at Copenhagen Airport at 16:55 local time on October 27, 2007. There were no reported injuries to the 40 passengers and 4 crew members on board.
According to preliminary information, the incident involved the main right hand landing gear, which failed to fully extend for landing. There appears to be no relationship between this incident and previous SAS Q400 main landing gear incidents. While SAS has decided to ground their Q400 fleet until further notice, Bombardier has advised all Q400 operators via an All Operator Message (AOM) of this incident but is not recommending changes to their normal on-going Q400 flight operations.
Bombardier is cooperating fully with SAS and the investigating aviation authorities and has dispatched a product safety and technical team to the site to fully support and assist in the investigation. Until such time as the authorities release any information or findings, Bombardier cannot comment further or speculate on the potential cause of this incident.