Boeing today unveiled its brand new Boeing 747-8 Intercontinental – and man, she's a beauty!
"The new 747-8 Intercontinental features the latest in innovative technologies — applying many of the breakthroughs also found on the 787 Dreamliner," said Boeing Commercial Airplanes President and Chief Executive Officer Jim Albaugh. "We think our customers will value the low operating costs and passengers will enjoy the comfort of the striking new interior."
"The 747-8 Intercontinental will be a great complement to our fleet, fitting nicely into the 400-seat category, improving our fleet's eco-efficiency even further," said Nico Buchholz, executive vice president, Lufthansa Group Fleet Management. "As launch customer, we are looking forward to welcoming this new aircraft to our fleet next year as it adds to our ongoing fleet modernization and environmental efforts."
Korean Air and VIP customers have joined launch customer Lufthansa in ordering a total of 33 747-8 Intercontinentals. First delivery of the 747-8 Intercontinental is scheduled for the fourth quarter.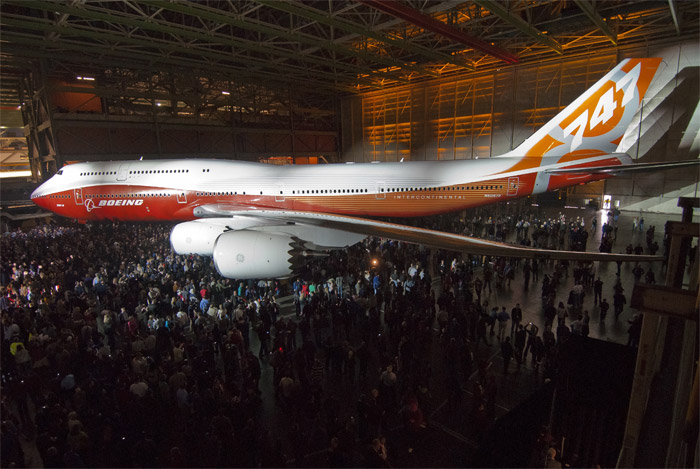 The 747-8 Intercontinental will have the lowest seat-mile cost of any large commercial jetliner, with 12 percent lower costs than its predecessor, the 747-400. The airplane provides 16 percent better fuel economy, 16 percent less carbon emissions per passenger and generates a 30 percent smaller noise footprint than the 747-400. The 747-8 Intercontinental applies interior features from the 787 Dreamliner that includes a new curved, upswept architecture giving passengers a greater feeling of space and comfort, while adding more room for personal belongings.
The airplane unveiled today is painted in a new Sunrise livery of red-orange that only will appear on the first 747-8 Intercontinental and is a significant departure from Boeing's standard blue. The new color palette honors many key Boeing customers whose cultures recognize these colors as symbols of prosperity and good luck.
Source: Boeing
Photos: Boeing