On Friday night, once again a Dash 8-400 (Q400) was involved in a landing-gear-related incident. This was the 3rd accident of a Q400 within only 3 weeks and raises concerns about the safety and a possible design flaw of the Bombardier Q400.
An Augsburg Airways (member of Lufthansa Regional) Dash 8 Q400 originally bound from Munich to Florence (Italy) did an emergency landing at Munich Franz Josef Strauss International Airport (MUC), Germany, after the nose landing gear failed to deploy.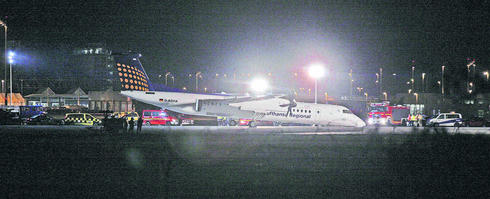 During approach to Florence the crew experience difficulties to deploy the nose gear. After trying several times to deploy the front landing gear without avail they decided to return to Munich. Main reason for returning back were security concerns, Munich provides much longer runways than those available in Florence.
After the emergency landing, without nose gear, at MUC the Dash 8 skidded down the runway and came to rest on its nose. None of the 65 passengers and 4 crew members aboard the flight were injured.
The involved Q400 was even inspected last week, with main focus on the landing gear.
Just a few days ago Bombardier announced that approximately 70% of all Q400 worldwide have been returned back to service.