Boeing announced an order for five 747-8 Intercontinental jetliners by Korean Air. Korean Air is the first Asian airline to order the passenger version of the new 747-8.
The airplanes have a total average list price value of $1.5 billion. Korean Air already has arrangements to operate seven 747-8 Freighters. Korean Air plans on flying the 747-8 Intercontinental on long-haul routes to the Americas and Europe.
The new 747-8 Intercontinental is stretched 18.3 feet (5.6 m) from the 747-400 to provide 467 seats in a three-class configuration, an additional 51 seats. It also offers a range of 8,000 nautical miles (14,815 km). Using the new GEnx-2B engines, the 747-8 provides airlines a quieter, more fuel-efficient airplane. The 747-8 also provides nearly equivalent trip costs and 13 percent lower seat-mile costs than the 747-400, plus 26 percent greater cargo volume.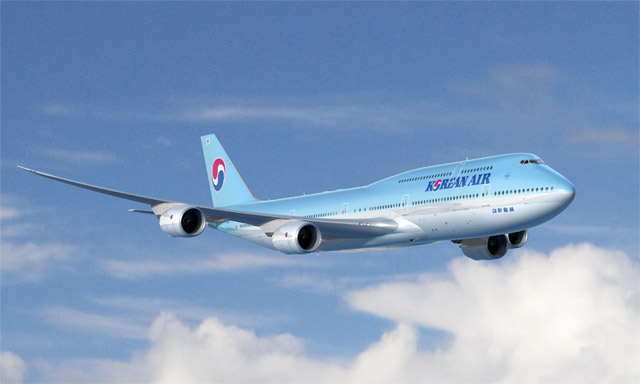 The 747-8 also features a new wing design and an upgraded flight deck. The airplane interior incorporates features from the 787 Dreamliner, including a new curved, upswept architecture that will give passengers a greater sense of space and comfort, while adding more room for personal belongings. The architecture will be accentuated by lighting technology that provides smooth transitions for a more restful flight.
The 747 program is in the later stages of the 747-8 Intercontinental design phase. Assembly on the airplane is set to begin around mid-2010, with the first delivery of the passenger version scheduled for the fourth quarter of 2011.
The Korean Air order only marks the second 747-8i order of a commercial airline. Lufthansa, the launch customer of the 747-8 Intercontinental, has 20 planes on order. The remaining orders for 8 planes come from several unidentified VIP customers. One (or two) of these VIP orders could be a replacement for the aging "Air Force One" Boeing 747-200B (Boeing VC-25)
Image: Boeing