The Boeing 747-8 Freighter successfully took to the sky for the first time Monday Feb. 8.
With 747 Chief Pilot Mark Feuerstein and Capt. Tom Imrich in the flight deck, the newest member of the 747 family took off at 12:39 p.m. local time from Paine Field in Everett and landed at Paine Field at 4:18 p.m.
Video

This flight was the first of more than 1,600 flight hours in the test program for the newest member of the Boeing freighter family. The airplane followed a route over Western Washington, where it underwent tests for basic handling qualities and engine performance. The airplane reached a cruising altitude of 17,000 feet (5,181 m) and a speed of up to 230 knots, or about 264 miles (426 km) per hour.
Photos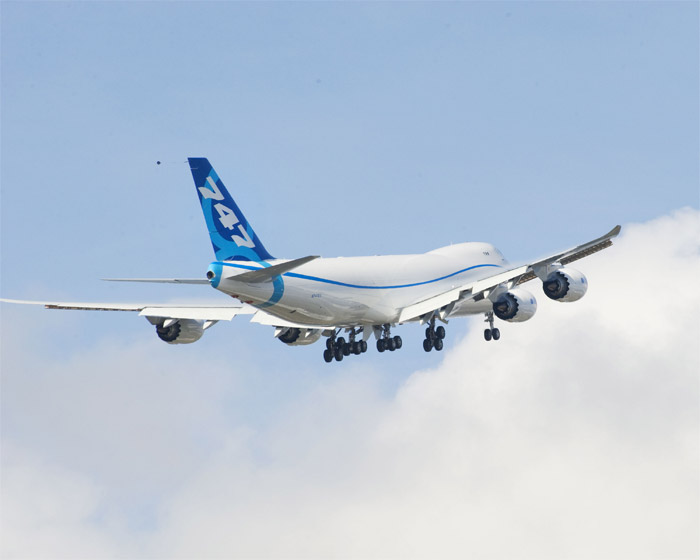 Powered by four General Electric GEnx-2B engines, the 747-8 Freighter will transition its testing program to Moses Lake, Wash., and Palmdale, Calif., where the other two test airplanes will join it in the coming month.
Boeing launched the airplane on Nov. 14, 2005, with firm orders for 18 747-8 Freighters: 10 from Cargolux of Luxembourg and eight from Nippon Cargo Airlines of Japan. All told, Boeing has secured 108 orders for the 747-8, of which 76 are orders for the new freighter. Cargolux, Nippon Cargo Airlines, AirBridgeCargo Airlines, Atlas Air, Cathay Pacific, Dubai Aerospace Enterprise, Emirates SkyCargo, Guggenheim and Korean Air all have ordered the 747-8 Freighter.
Source: Boeing
Photos: Boeing