Virgin Founder, Sir Richard Branson and SpaceShipOne designer, Burt Rutan, today pulled back the hangar doors on the new WhiteKnightTwo (WK2) carrier aircraft that will ferry SpaceShipTwo and thousands of private astronauts, science packages and payload on the first stage of the Virgin Galactic sub-orbital space experience.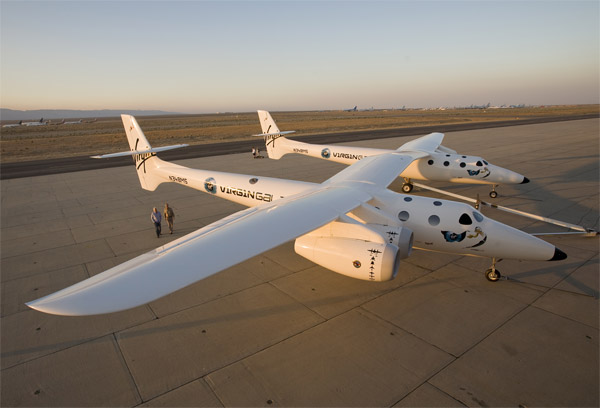 The rollout represents another major milestone in Virgin Galactic's quest to launch the world's first private, environmentally benign, space access system for people, payload and science.
Christened "EVE" in honor of Sir Richard's mother, who performed the official naming ceremony, WK2 is both visually remarkable and represents ground-breaking aerospace technology. The plane, powered by four Pratt and Whitney PW308A engines, is the world's largest all carbon composite aircraft and many of its component parts have been built using composite materials for the very first time. At 140 ft, the wing spar is the longest single carbon composite aviation component ever manufactured.
Video – WhiteKnightTwo Mothership Roll-Out

See also Virgin Galactic unveils SpaceShipTwo
Source: Virgin Galactic
Photo Credit: Virgin Galactic