A tip of an Airbus A380's wing scraped a repair building at the Suvarnabhumi airport, Bangkok while preparing for a test flight to Chiang Mai on Saturday morning.
Airbus let Thai Airways International (THAI) uses the world's largest passenger plane in a trial flight from Bangkok to Chiang Mai.
The plane, which arrived in Thailand on Friday as part of the Asian tour to promote its sales, carried 150 VIP guests, businessmen and reporters on this special flight. It was scheduled to leave the airport at 9.45am.
Its tip hit the building when it was backing out of the parking area to the taxiway, officials said. There were no injuries.
THAI president Apinan Sumanaseni said minor damage occurred to the jet's winglet, and expected that it would take an hour to fix the damage. The flight would be resumed on Saturday afternoon.
The pushback vehicle operator was not blamed for the damage as Mr Apinan said the accident occurred because the jet is so large that it needs more space on the taxiway.
Airbus officials were sanguine.
"This sort of thing happens every day, in every airport around the world," said Edouard Ullmo, Airbus' executive vice president of sales for Asia Pacific.
Airbus decided to remove both winglets, designed to stabilise the aircraft in heavy turbulence, before resuming the flight to Chiang Mai Saturday afternoon.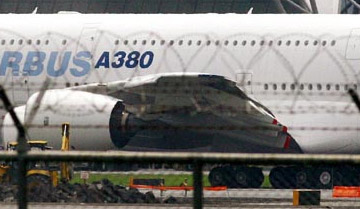 "We can fly with one winglet or no winglets," said Ullmo. "This is standard procedure."
The A380's wingspan is much wider than the B747-400, at 79.8 metres compared to 64.5 metres.
Sources: BangkokPost.com, spiegel.de