Piasecki Aircraft is preparing its X-49 experimental compound helicopter for a first flight before the end of June. [Source]
The modified Sikorsky H-60, with wings and tail-mounted variable-thrust ducted propeller (VTDP), has been moved to Boeing's Wilmington, Delaware facility for ground and flight testing.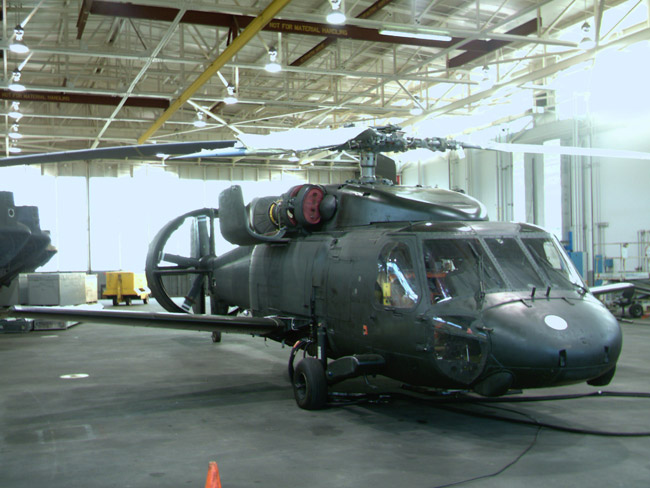 The X-49A "Speedhawk" is an experimental helicopter currently under development. It is the subject of a $US 26.1-million U.S. Navy-sponsored project that consists of a Sikorsky YSH-60F helicopter modified by Piasecki as a testbed to test the "Vectored Thrust Ducted Propeller" (VTDP) system. One YSH-60F will be converted to test the feasibility of VTDP under an advanced technology demonstration program. The YSH-60F is powered by two General Electric T700-GE-401C engines.
The demonstration contract was awarded in October 2000 by the Naval Air Systems Command to Piasecki Aircraft. Piasecki will install a lifting wing with flaperons and a vectored-thrust ducted propeller (VTDP), or "ring tail," to a U.S. Navy Sikorsky YSH-60F.
The compound helicopter technology that will be added to the YSH-60F was first demonstrated in trials of the Piasecki 16H-1 and 16H-1A in the early 1960's, when the helicopters were flown at speeds up to 225 mph (360 km/h).
The X-49A YSH-60F flight demonstrator will be updated with a lifting wing taken from an Aerostar FJ-100 business jet. A ring tail will also be added and the helicopter drive train will be modified to accommodate VTDP. Piasecki will conduct integrated tests of the modified drive train at the Navy's helicopter transmission test facility.
The cockpit controls will be modified with the addition of a manual prop pitch override on the collective for the ring tail. This will be the only visible change to the aircraft's existing mechanical controls in the cockpit. The other controls needed to operate the compound helicopter's systems will be integrated into the aircraft's existing mechanical controls to reduce pilot workload. Weight added to the X-49A YSH-60F will be about 1,600 lb (725 kg). It will have an unrefuelled combat radius of 1,411km following a rolling take-off, and 963km after a vertical take-off, representing a three-fold increase over the standard H-60.
As of 2004 the X-49A YSH-60F/VTDP demonstration program was being transitioned from the U.S. Navy to the U.S. Army.