Well folks, I'm back from holiday and to starting up the blog again, here is a short summary of the latest orders and deliveries announced by Boeing during last weeks.
EgyptAir announced an order for two 777-300ER (Extended Range) jetliners, with options for two additional airplanes, as part of the airline's twin-aisle fleet upgrade for its long-haul service. Some time ago the airline announced its new, more modern livery, as shown below.
Brazil's Varig Airlines got delivered two 737-800s. The 737-800s are equipped with Blended Winglets and Boeing's special short-field performance package designed for short runways such as Santos Dumont in Rio de Janeiro.
Dubai-based airline Emirates celebrated the delivery of a 777-300ER (Extended Range) and a 777-200LR (Longer Range). These new 777s are the 62nd and 63rd of the model type delivered to Emirates. Representatives from the Emirates and Boeing team are pictured here prior to the airplanes' departure for Dubai.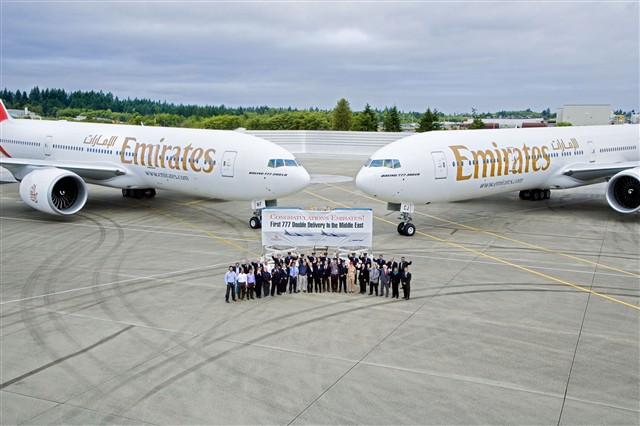 Istanbul-based airline Saga Airlines announced an order for two Boeing 737-800s with Blended Winglets. Saga Airlines has also secured two purchase rights for the same model.
Photos: Boeing