On Thursday Air Mauritius flight MK745, an Airbus A330-202 (3B-NBM) (the only A330 Air Mauritius operates – delivered in December 2007), was evacuated at Delhi Airport (India) after a bird strike occured during take-off.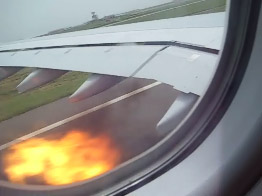 After a bird hit engine number 1, the take-off was aborted, causing the brakes to overheat and catching fire.
The aircraft was evacuated through the emergency escape chutes.
Video by BBC showing evacuation

Amateur video from inside the plane
Part1: http://www.hindustantimes.com/AudioVideo/AudioVideoPage.aspx?ID=…
Part2: http://www.hindustantimes.com/AudioVideo/AudioVideoPage.aspx?id=…
Source: hindustantimes (just ignore the stupid and wrong narrative over there)