Sad news again for Kalitta Air 🙁
Today a Boeing 747-209B(SF) (N714CK) operated by Centurion Air Cargo, leased from Kalitta Air, crashed on a farm near Bogota (Colombia).
Soon after departure from Bogota, the aircraft lost height, crashed on farmland, broke up and caught fire. At least 2 people have been killed on the ground. All eight crew members surprisingly have survived. Most of the wreckage is spread over wide area while the cockpit section remained intact, allowing the crew to survive inside. The aircraft bound to Miami (MIA) was loaded with flowers. According to local news, the pilot reported engine fire.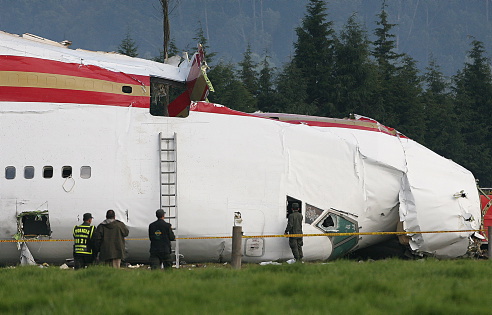 Credit: Associated Press (AP Photo/William Fernando Martinez)
Photos
http://www.elespectador.com/galeria-asi-quedo-el-avion-cayo-mosquera
Video
http://www.eltiempo.com/multimedia/video/home/multimedia.php?id_recurso=4365032
http://cbs4.com/local/jet.crash.centurion.2.765094.html