Boeing and Biman Bangladesh Airlines today announced an order for two Boeing Next-Generation 737-800s, with purchase rights for two additional 737s. Today's signing ceremony, held at the U.S. Department of Commerce, was attended by dignitaries from Bangladesh and the United States and also celebrated Biman's selection of an all-Boeing jet fleet for its future operations.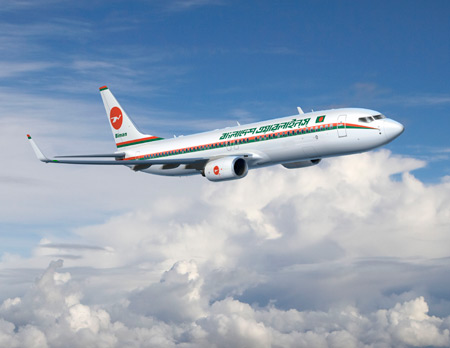 Biman recently announced an order for four 777-300ERs and four 787-8s with purchase rights for four more of each model type. The airline currently connects Bangladesh with 18 countries around the world, and has agreements in place that will allow it to serve a total of 42 countries as it implements its growth plan.
Biman Bangladesh Airlines, which began as a government-owned national carrier in 1972, became Bangladesh's largest public limited company in 2007. The purchase of Boeing airplanes represents the largest capital expenditure in the country's history.
Photo Credit: Boeing
Source: Boeing