Indian based international carrier Jet Airways has taken delivery of its latest Airbus A330-200 aircraft, yesterday. Naresh Goyal, Jet Airways Chairman, formally accepted the aircraft at a ceremony at the Berlin Air Show (ILA) in presence of German Chancellor Angela Merkel and Airbus President and CEO Tom Enders.
The aircraft forms part of an order for 15 Airbus A330-200 aircraft placed between 2005 and 2007. An initial order for 10 aircraft was signed in October 2005 and this was increased to 15 in December 2007. Today's A330-200 is the airline's seventh aircraft directly received from Airbus. The first aircraft was delivered in April 2007.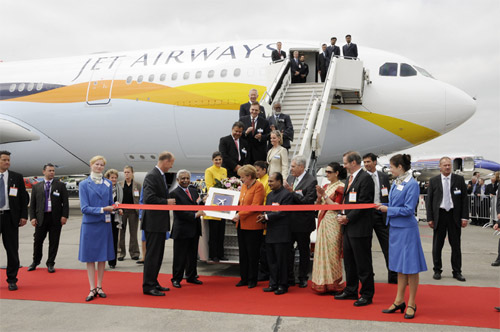 Jet Airways is deploying the aircraft on new far Eastern routes to serve Hong Kong and to expand services to Europe and the Middle East. The aircraft will be configured in two classes with a total of 220 seats.
The customised aircraft is configured with 30 seats in Première arranged in a 'Herringbone configuration' with fully lie flat electronic seats with lumbar support and massage systems.
Jet Airways operates A330s between India and its Brussels European hub in Belgium and onto Canada and North America. The airline plans to deploy the additional A330s on regional and long haul international flights.
Source: Airbus
Photo Credit: Airbus