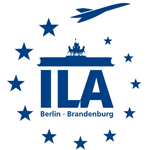 The world's oldest air show, the ILA, is taking place between 27 May and 1 June 2008 at Berlin-Schönefeld Airport (Germany). Over 1,000 exhibitors from more than 40 countries are expected at this most important meeting place for the industry anywhere in Europe this year. The partner country at the ILA2008 is India, which has announced its largest-ever presentation at any foreign aerospace show. Over 300 aircraft of all sizes and categories will be on display on the ground and in the air.
The Air Show will be open for general public from 30 May to 1 June, offering an amazing static and air display.
Some of this year's highlights are the Memorial Flight – 60 years airbridge with Douglas DC-3 and US Air Force Boeing C-17A Globemaster III, USAF Rockwell B-1B Lancer on flying display (as well as on static display), Airbus A380-842 on flying display, A330-200 and A320 on static display, A320 featuring the Airbus/DLR/Michelin-fuel-cell-system, which was successfully tested in flight in February this year – a civil aviation's "first", Messerschmitt Me 262 on flying display, as well as many jet fighters performing breathtaking high-performance shows like Panavia Tornado, F4-F Phantom, Eurofighter Typhoon, MiG-29 Fulcrum, F-5E Tiger II, F-16, F-86 Sabre. Helicopters that will be seen in flying action include Bell UH-1D, Sikorsky CH-53, NH-Industries NH90, Eurocopter Tiger, MBB BO 105, Boeing CH-47 Chinook.
Hindustan Aeronautics Ltd. (HAL) of this year's partner country, India, intends to display its single-engined HJT-36 "Sitara" jet trainer, the light military and civil helicopter "Dhruv" and the "Tejas" light combat aircraft for the first time in Europe.
Depending on the weather conditions, a Wing Walkers Show with a Boeing Stearman PT17 can be admired.
More information: http://www.ila-berlin.de/ila2008/home/index_e.cfm
I will attend the Air Show at the weekend public display to take some photos for you!
(If you can offer a trade visitor ticket, please feel free to contact me. (Red Bull maybe? 😉 )