This is a sad day. In Toulouse the last Airbus A300 ever has been built. It's F4-605R MSN 878 F-WWAT, a freighter for FedEx.
It was shown at Toulouse in primer with a sticker all along the fuselage reading "I'm the youngest of the eldest Airbus Family" with the flags of France, Germany, UK and Spain.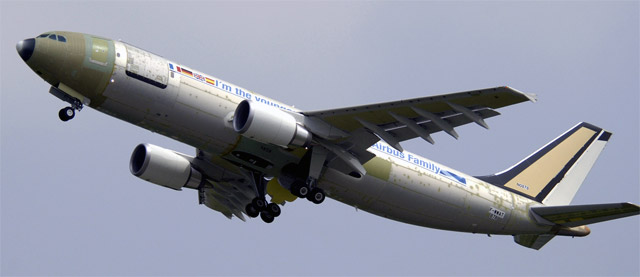 The Airbus A300 was the first aircraft produced by Airbus. The first A300 went to service on March 15 1974. First customers were Lufthansa and Air France.
The last Airbus A300 F4-605R MSN 878 F-WWAT was delivered to FedEx on 12th of July 2007. Over the life of the programme a total of 821 A300/A310 have been ordered and to date there are more than 630 A300s and A310s in service with about 80 operators. Airbus' long-term fleet support programme will continue to enable their operation until the very last aircraft is retired from service, with half of the current fleet expected still to be in service beyond 2025.
With more than 120 A300s and A310s aircraft currently in service, FedEx is a long-standing operator and the largest customer for these aircraft types.
The Airbus A300, launched in May 1969 and entering service with Air France in May 1974, was the very first wide-body, twin-engine aircraft ever brought to the market. It set totally new standards in the industry. The innovative two-man glass cockpit was implemented on the A310, launched in July 1978 and entering service in April 1983 with Lufthansa and Swissair.
The History: http://www.airbus.com/en/corporate/people/company_evolution/a300/index.html
Read the whole story about the Airbus A300: http://en.wikipedia.org/wiki/A300