The new Lockheed Martin HC-130J personnel recovery aircraft took off for the first time on July 29. Due for delivery to the U.S. Air Force's Air Combat Command in September 2010, the HC-130J is scheduled to reach initial operational capability in 2012. An Air Force Special Operations Command MC-130J variant of this aircraft will fly in early 2011.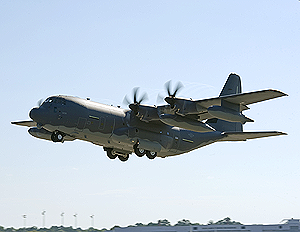 Compared to a classic C-130 a new propulsion system, featuring four powerful Allison AE2100D3 engines, generates more thrust while increasing fuel efficiency. An all-composite six-blade Dowty Aerospace R391 propeller system is lighter in weight and has fewer moving parts. Advanced avionics includes LCD instrument readouts for aircraft flight control, operating systems, and navigation. Besides two head-up displays, it has four multi-functional head-down LCD displays which are night vision goggles compatible. Two mission computers and two backup bus interface units provide dual redundancy. In the baseline (airlifter) version the avionics upgrades result in reduction of crew to 2 pilots and 1 loadmaster – no flight engineer, navigator or radio operator is needed in the cockpit anymore.
The extensive modifications also feature a belly-mounted 360-degree surface search radar, Direction Finder system, nose-mounted electro-optical/infrared radar, FLIR, an airborne Automatic Identification System and new communication systems.
The HC-130J furthermore offers external fuel tanks, flare/smoke float launch tubes and the USAF-standard liquid oxygen system has been converted to gaseous O2.
Source: Lockheed Martin
Photo: Lockheed Martin