Airbus today celebrated the delivery of the 6,000th aircraft in the airframe manufacturer's 40 year history. The aircraft, an A380 (MSN025), was handed over to Emirates Airline in a ceremony in Hamburg. The aircraft is Emirates' eighth A380.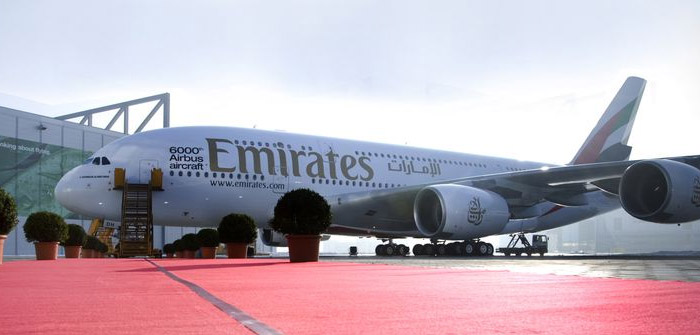 Accepting delivery of the new aircraft, Adel Al Redha, Executive Vice President, Emirates' Engineering and Operations, said: "The A380 represents the future of air travel and our strength and determination to drive forward, alongside Airbus, to meet our ambitious expansion plans and traffic demand. If a powerful demonstration of the resilience of the aviation industry was required, today has provided that. All who have flown the A380 will realise that this is a very special aircraft, embracing the latest in passenger comfort, technology and environmental credentials."
"Today's delivery is our 25th A380 so far, and more importantly, the 6,000th Airbus produced in our 40 year history. It is particularly significant that it is both an A380 and for Emirates, as they were involved in its development from early on. We are proud to have the words' Airbus 6,000th Aircraft' inscribed alongside the Emirates livery," said Tom Enders, Airbus CEO.
With a total order for 58 aircraft, Emirates is the single largest customer for the A380. Established in 1985, Emirates became an Airbus operator from the outset. Today, Emirates' Airbus fleet has grown to 55 aircraft with a further 121 on order.
Airbus delivered its first customer aircraft in May 1974 – an A300B2
The 1,000th aircraft was delivered in March 1993 – an A340-300
The 2,000th was delivered in May 1999 – an A340-300
The 3,000th was delivered in July 2002 – an A320
The 4,000th was delivered in September 2005 – an A330-300
The 5,000th was delivered in December 2007 – an A330-200
Airbus was formed in 1969, and by 2005 had reached more than 50 per cent of worldwide deliveries in a single year, of all aircraft of more than 100 seats. It also took Airbus some 30 years after its initial creation to bypassBoeing in terms of sales and remain at around half the market share.
Source: Airbus
Photo: Airbus