Russia has started tests of its fifth generation fighter – the Sukhoi T-50 PAK FA! The project in which India is also a partner, prepares to compete with the F-22 Raptor.
The first prototype of the aircraft rolled out on the runway of KNAAPO aircraft plant in Komsomolsk-on-Amur in the country's far east. The test pilot switched on its engines and made two runs on the runway.
The Sukhoi T-50 PAK FA has a range of 5,500 km, and is scheduled to enter service with the Russian Air Force in 2015. Ahead of the maiden flight scheduled for this month, first runway tests of the fighter were held in December.
Although there is no reliable information about the PAK FA's specifications yet, it is known from interviews with people in the Russian Air Force that it will be stealthy, have the ability to supercruise, be outfitted with the next generation of air-to-air, air-to-surface, and air-to-ship missiles, incorporate a fix-mounted AESA radar with a 1,500-element array and have an 'artificial intellect'. The PAK FA will use on its first flights 2 Saturn 117S engines (about 14.5 ton thrust each). The 117S is an advanced version of the AL-31F, but built with the experience gained in the AL-41F program. The AL-41F powered the Mikoyan MFI fighter (Project/Article 1.44). Later versions of the PAK FA will use a completely new engine (17.5 ton thrust each), developed by NPO Saturn or FGUP MMPP Salyut.
Currently the only developed fifth generation jet fighters are the F-22 Raptor and the F-35 Lightning II.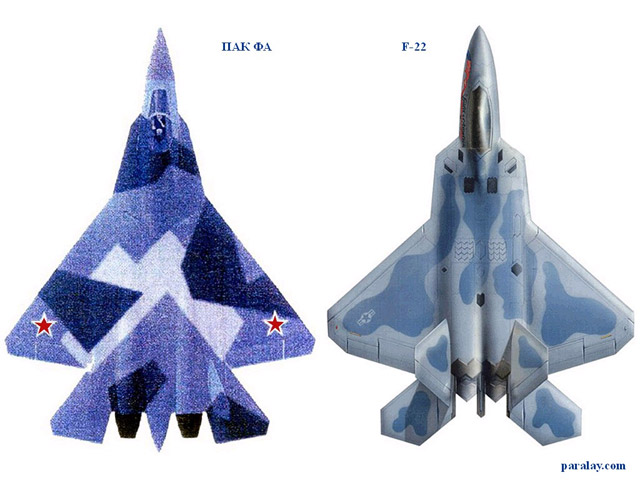 Under an agreement signed in October 2007, India has also joined Russia in the project based on Sukhoi's PAK FA project, and the two nations are in negotiations to finalise the commercial contract for the deal.
At least three prototypes have been built by the KNAAPO aircraft plant.
Photo: paralay.com
Source: dnaindia.com