You're looking for something to surprise a fellow aviation enthusiast or maybe even for yourself? Well, I've found the perfect gift!
Aviation humor and cartoon books from aviation-humor.com!
Each book contains brilliant cartoons, stories and anecdotes from the fantastic world of aviation. Some of the stories may have really happened, some just picture funny situations that, in some way, you may encounter everyday in aviation industry.
All of these books are created and published by two dutch ex Air Force officers. One was also flying as a captain for KLM. They started publishing their first book already in 1982, achieving great success worldwide!
These books are so much fun to read! Here are some examples of what you'll get:
After a lengthy delay at the gate while waiting to depart, the Captain finally came on the PA system and announced: "I'm sorry for the delay, but the machine that smashes your baggage and removes the handles is broken, so the ground crew is having to do it all by hand today!"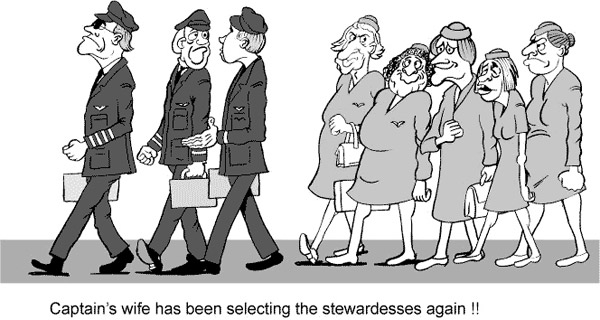 A light twin had just landed on Runway 29. Missing the last turnoff onto Taxiway Delta, the pilot started to turn left onto Golf when the controller spoke up:
Tower: "N1234, that taxiway is approved for single-engine use only."
N1234: "That's okay, I'll just shut down one engine."
These books are a must-have for every aviation enthusiast and perfect gifts for Christmas or Birthdays!
Just head for aviation-humor.com and have a look for yourself!
Cartoons by aviation-humor.com