Boeing and low-cost carrier Norwegian Air Shuttle today confirmed an order for additional six Next-Generation 737-800s. With this order, Norwegian has a total of 48 Next-Generation 737 airplanes on order from Boeing as well as 22 airplanes from leasing companies.
The new 737s will feature advanced-technology Blended Winglets, an environmental innovation that reduces drag, resulting in less fuel consumption and a decrease in carbon emissions of 3.5 to 4 percent.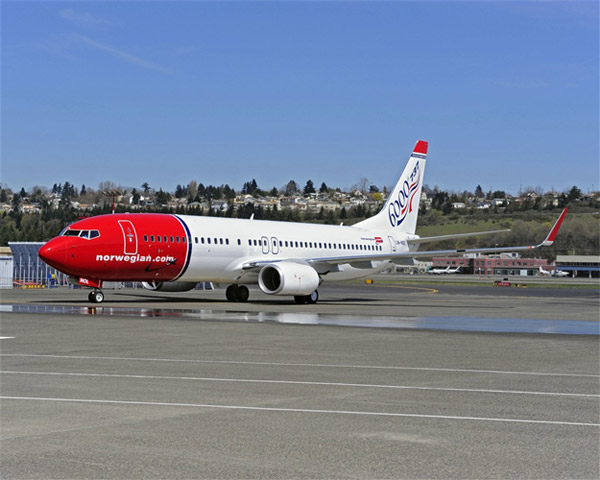 The Oslo-based carrier is one of the first airlines in Europe that will incorporate the spacious new 737 Boeing Sky Interior starting at the end of 2010. Inspired by years of design research on the 787 Dreamliner, airlines with this new interior will feature the soft, blue-sky-like lighting overhead, contemporary sculpted sidewalls and window reveals designed to draw passengers' eyes to the airplanes' windows, enhancing the passengers' overall flying experience.
Norwegian's aircrafts are equipped with state-of-the-art Recaro seats which offer increased legroom without compromising capacity. Norwegian has opted for a 186-seat configuration in its aircraft contrary to a full capacity 189-seat configuration.
Source: Boeing
Photo: Boeing