In preparation for its Initial Operational Test and Evaluation (IOT&E), Northrop Grumman's first E-2D Advanced Hawkeye test aircraft, known as Delta One, has successfully completed its first land-based catapult launch tests. Both E-2D System Development and Demonstration (SDD) aircraft, Delta One and Delta Two, are currently undergoing shore-based carrier suitability testing at Naval Air Station Patuxent River, Md., conducted by the U.S. Navy's Air Test and Evaluation Squadron 20 (VX-20).
Prior to joining the carrier fleet, all naval aviation aircraft undergo carrier suitability testing. The bulk of this testing involves catapult and arrested landing structural tests, as well as the interoperability between the aircraft and the carrier.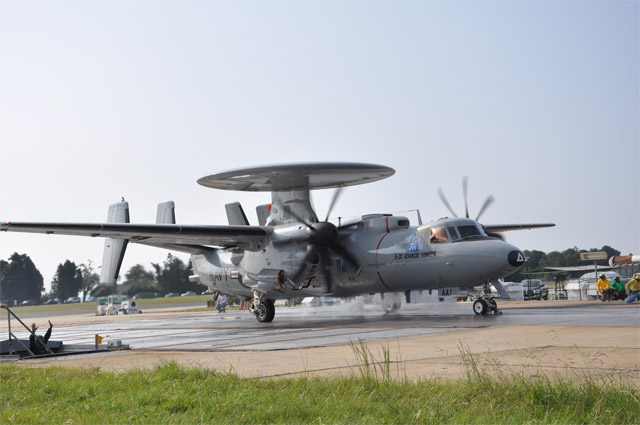 Introduced in 2007, and built on the E-2's strong legacy of providing world-class airborne early warning and control (AEW&C) capability for more than 45 years, the E-2D Advanced Hawkeye is the sixth generation of the E-2. While its external appearance is similar to the E-2C, the internal systems of the Advanced Hawkeye have been completely redesigned and the capabilities vastly expanded. With its newly developed, more powerful AN/APY-9 Electronic Scan Array (ESA) radar, the E-2D will provide the warfighter with the expanded battlespace and situational awareness required for today's and tomorrow's missions.
Under a $408 million contract awarded in July 2007, Northrop Grumman is producing three E-2D pilot production aircraft which are on-track for delivery to the U.S. Navy in 2010. Following the successful completion of a Milestone C review, a $432 million contract, awarded in June, kicked off Low-Rate Initial Production. The Navy's Program of Record is for 75 total E-2D Advanced Hawkeye aircraft.
Source: Northrop Grumman
Photo: Northrop Grumman