A joint U.S. Air Force and Lockheed Martin flight crew flying a C-5M Super Galaxy strategic transport claimed 41 world aeronautical records in one flight on September 13.
The flight from Dover AFB broke eight existing world marks and established standards in 33 other categories where there had been no previous record attempt. The records were set in the Class C-1.S, Jet category for altitude in horizontal flight, altitude with payload, time-to-climb, time-to-climb with payload and greatest payload to 2,000 meters. The aircraft carried a payload of more than 80,000 kg (the actual measured payload weight was 176,610 lb) to an altitude of more than 41,100 feet in 23 minutes, 59 seconds.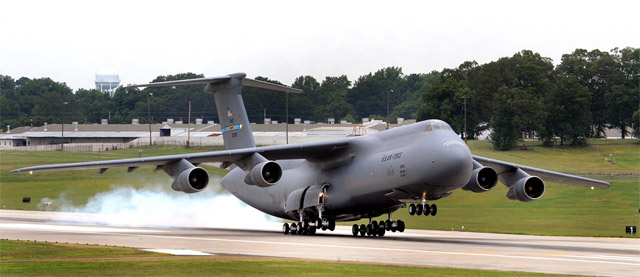 The Class C-1.S Jet category is for aircraft weighing from 250,000 kilograms (551,155 pounds) to 300,000 kg (661,386 lb). The C-5M had a takeoff weight of 649,680 lb, which included fuel, crew weight, necessary equipment, and the payload, which was loaded on 29 standard U.S. military 463L cargo pallets. All C-5s are capable of carrying 36 pallets.
The flight set a new record for altitude with payload of 41,188 feet. It also set marks for time-to-climb and time-to-climb with 35,000 kg (77,162 lb), 40,000 kg (88,185 lb), 45,000 kg (99,208 lb), 50,000 kg (110,231 lb), 60,000 kg (132,277 lb), 70,000 kg (154,323 lb), and 80,000 kg payload. The flight took 4 minutes, 13 seconds to reach 3,000 m (9,843 ft) altitude; 7 min., 27 sec to get to 6,000 m (19,685 ft); 13 min., 8 sec. to fly to 9,000 m (29,528 ft); and 23 min., 59 sec to fly to 12,000 meters (39,371 ft).
The flight also broke existing class records for altitude in horizontal flight (41,116 ft) and altitude with 35,000 kg, 40,000 kg, 45,000 kg, 50,000 kg, 60,000 kg, and 70,000 kg payload (41,188 ft). The mission broke the record for greatest payload (80,036 kg/176,610 lbs) to 2,000 meters (6,562 ft) as well.
All of the records will first be certified as United States national records by the National Aeronautic Association, the nation's oldest aviation organization. The NAA, based in Arlington, Va., is the U.S. representative to the Fédération Aéronautique Internationale (FAI), the sanctioning body for all world aviation records. Formal approval of the C-5M records by the Lausanne, Switzerland-based FAI is expected to take several weeks.
Source: Lockheed Martin
Photo: Lockheed Martin