This week, Airbus has delivered the first of two A318 aircraft equipped with "steep approach" capability to British Airways. The A318 is the largest commercial aircraft certified to land at steeper than usual gradients and has the potential to transform long haul travel between city centres, saving time and cost to the business traveller. The delivery makes the carrier a new operator of all four members of the A320 Family.
The "Steep Approach" A318 is certified for a 5.5° approach slope. This compares to a nominal 3° slope for standard operations. During "Steep Approach" certification the aircraft has to demonstrate it can safely achieve a 7.5° angle, equivalent to the targeted angle plus a 2° safety margin. The A318 and A318 Elite, were approved for steep approach landing capability by the European Aviation Safety Agency (EASA) in 2007. The A318 Elite has steep approach capability as standard specification.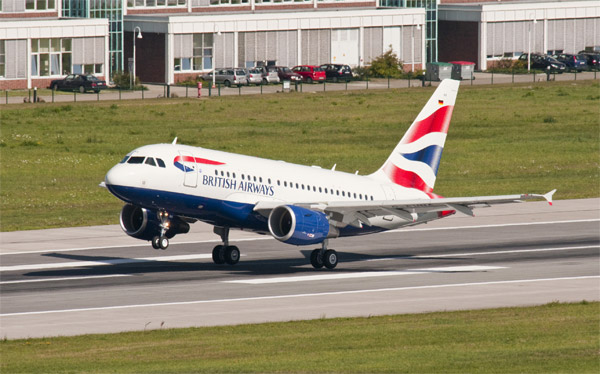 The A318's 'steep approach' capability makes it ideal for operations out of mountainous or otherwise constrained locations such as urban area airports where the aircraft also satisfies strict low noise regulations. British Airways A318s will each be equipped with two CFM 56-5B9/3 engines.
Willie Walsh, British Airways' chief executive said: "The A318s were specially ordered for the twice-daily London City – JFK service because of their size, flexibility and 'steep approach' capability and will reinforce our unrivalled schedule between two of the world's greatest financial centres. The A318 may be our smallest aircraft but it has a big role to play in bringing a new dimension of style and convenience to the London – New York route and shows our determination to invest in the future."
"The A318 has the best capability and range of any commercial aircraft serving city centre airports. It enables operators to open new premium routes with enhanced cabin comfort standards thanks to the widest fuselage of any single-aisle aircraft," said John Leahy, Airbus Chief Operating Officer, Customers.
In British Airways' layout, the A318s' Club World cabin will feature a spacious layout with 32 seats that convert into full lie-flat beds, equipped with OnAir connectivity, allowing passengers to work during the flight with email, web surfing and mobile phone text messaging. The two A318s ordered will join a fleet of 11 A321s, 37 A320s and 33 A319s already in service. British Airways has a further nine A320s and 12 A380s on firm order from Airbus.
Photo: Airbus
Source: Airbus