The first test component, a fuselage test barrel, for the new CSeries single-aisle aircraft, has been delivered to Bombardier's Saint-Laurent, Quebec facility. The test barrel is representative of the main fuselage section of the upcoming CSeries aircraft. Its production and testing will demonstrate the manufacturing and engineering structural concepts before the aircraft's final design phase begins in 2010. The CSeries aircraft's entry into service is scheduled for 2013.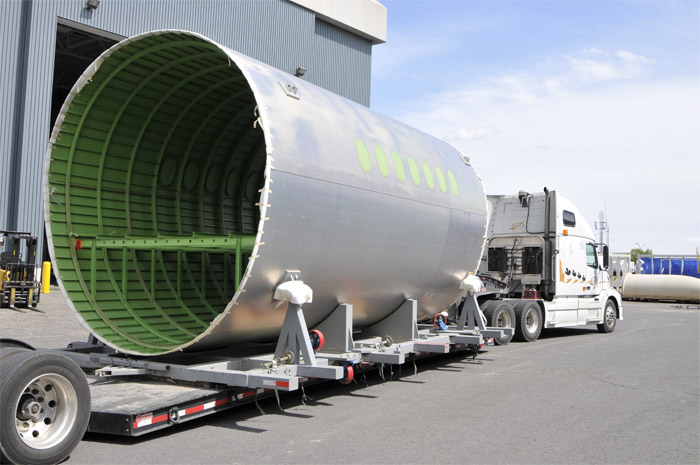 The test barrel, which measures approximately 23 feet (7 m) long and has a maximum diameter of approximately 12 feet (3.7 m), is made of advanced aluminum alloys. These materials have been selected to provide weight and maintenance advantages for CSeries jetliner operators.
Built by Shenyang Aircraft Corporation, a unit of China Aviation Industry, the test barrel left Dalian, China on July 20, 2009, traveled across the Pacific and then 2,500 miles from California to Quebec.
Over 10 per cent of the CSeries aircraft will be manufactured in China by Shenyang Aircraft Corporation. Shenyang also supplies the empennage, as well as the aft and forward fuselage sections for Bombardier's Q400 turboprop airliner.
Bombardier's 110-seat and 130-seat CSeries aircraft will benefit from the latest technological advancements, including: fourth generation aerodynamics; increased use of composites and advanced aluminium alloys in structures; a next-generation engine – the Pratt & Whitney PurePowerTM PW1000G engine; and the very latest in system technologies, such as fly-by-wire and electric brakes.
Photo: Bombardier
Source: Bombardier