This week the 4th Red Bull Air Race of the 2009 season was taking place in Budapest (Hungary).
On Wednesday, American Kirby Chambliss upset championship leader Hannes Arch in Qualifying at 4th round, snatching one championship point away from the Austrian with the fastest time of the day. Australia's rookie sensation Matt Hall got a career-best third while Arch's main rival for the overall title, Britain's Paul Bonhomme, fell to sixth place.
Today the American Michael Goulian won the thrill-filled final race, while Britain's Paul Bonhomme grabbed second place and knocked Austrian Hannes Arch out of the championship lead in a thrilling battle over the Danube River in front of a national holiday crowd of 650,000. American Kirby Chambliss grabbed third place, which dropped Arch into fourth and off the podium for the first time in over a year. German rookie Matthias Dolderer took a career-best fifth place.
Photos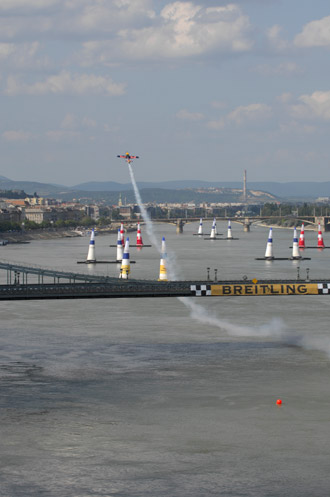 Photos by Red Bull (Thanks!)