Bombardier Aerospace announced today that U.K. airline Flybe has taken delivery of its 50th Bombardier Q400 turboprop airliner. The aircraft is equipped with the 1000th installation of Ultra Electronics' Active Noise Control (ANC) system which is called the Active Noise and Vibration Suppression (ANVS) system on Q400 and other Bombardier Q-Series aircraft. Since the introduction of the ANVS system to Bombardier's Dash 8 aircraft in 1996, the aircraft have been known as Q-Series airliners, signaling a new era in turboprop passenger comfort. The "Q" means quiet.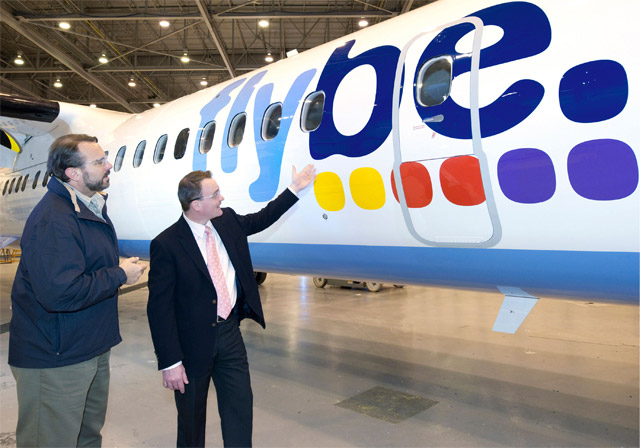 Flybe, previously known as Jersey European, placed an initial order for four Q400 airliners in March 1999. Subsequent orders were announced in 2003, 2005 and 2007, confirming Flybe as the largest operator of the aircraft type. Flybe which operates 190 routes in 13 countries, carried 7.5 million passengers in 2008 and is now the largest regional airline in Europe.
"The Bombardier Q400 airliner has been the dominant factor in our growth and success," said Jim French, Chairman and Chief Executive Officer of Flybe. "It has excellent operating economics, amazing performance, and the ANVS system contributes significantly to its outstanding passenger comfort."
"Flybe operates the largest fleet of the world's most technologically advanced turboprop," said Gary R. Scott, President, Bombardier Commercial Aircraft. "The Q400 airliner is optimized for short-haul service and Flybe's successful experience with our high-speed turboprop's capabilities in European markets has set a standard which other airlines around the world can follow."
Firm orders for the Q400 airliner have reached 347 aircraft, with 233 having been delivered as of January 31, 2009.
Source: Bombardier
Photo: Bombardier