US Airways flight 1549, an Airbus A320-214 (N106US) en route from La Guardia (New York) to Charlotte did an emergency landing in the Hudson River five minutes after takeoff.
The plane may have hit a flock of birds, damaging both engines, and then descended. After suffering the bird strike, the pilot tried to return to the airport, then made a controlled landing into the Hudson. Ferries and other boats converged to help with a rescue effort, as the plane drifted south in the water.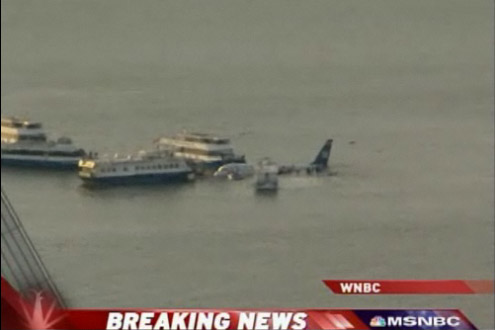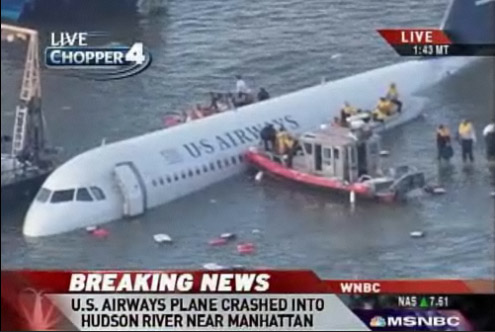 Videos
*Update*
CCTV Camera Captures Flight 1549
Interview with survivors

More Photos
http://twitpic.com/135xa
http://flickr.com/photos/gregorylam/tags/january152009/
http://www.flickr.com/groups/miracleonthehudsonriver/pool/
Apparently all 150 passengers and 5 crew members could be rescued from the ice-cold water! Incredible job by the pilots, crew and rescuers!
Several commuter ferries as well as the Coast Guard Cutter Ridley arrived quickly to help rescue passengers on the plane. New York Police Department divers dove into the water to assist with the rescue as plane floated southbound on the river, possibly due to the tidal direction.
The divers were dropped into the water from helicopters overhead, police officials said. Some passengers were able to free themselves from the plane. They could be seen on the exterior in televised reports.
One passenger interviewed on WNBC said that the pilot told everyone on board to brace for a hard landing. Passengers started saying prayers before the plane hit the water. The passenger, who said he saw the left engine blow out, added that it was "kind of orderly" getting off the plane.
The pilot Chesley Sullenberger and his crew will be honored for their remarkable job by New York mayor Bloomberg with handing over a "Key to the City of New York".
Images: MSNBC
Story at Ney York Times: http://cityroom.blogs.nytimes.com/2009/01/15/plane-crashes-into-hudson-river/?hp
Videos: http://www.msnbc.msn.com/id/21134540/vp/22887506#22887506